We are committed to providing our customers with the best possible calibration and repair services on your pressure measuring devices. We have extensive experience in the repair and calibration of all makes and models of pressure gauges, vacuum gauges and transducers. we also have a third party accreditation in the discipline of pressure to ISO/IEC 17025 and ANSI Z540.
At Accurate Instrument Repair, we pride ourselves in using the best equipment available to calibrate your devices.  We use pressure standards from DH Instruments, Fluke, Ruska and Eaton all of which are known throughout the industry as the leaders in providing the most accurate pressure measurement calibration standards.
Ruska 2480 pneumatic and hydraulic primary dead weight tester.
The E-DWT-H breaks new ground, improving the hydraulic pressure calibration process. E-DWT-H is an electronic calibrator designed to replace mechanical, piston-cylinder and weight based deadweight testers. It's a lighter, easier-to-use deadweight tester alternative that is at home in the lab or instrument shop, as well as in the field performing in-situ calibrations and tests. This complete hydraulic pressure calibration system combines the convenience and precision of continuous, realtime electronic pressure measurement with the simple and direct operation of high quality operator controlled pressure generation hardware. E-DWT-H one year measurement uncertainty is ± 0.02 % of reading with ranges up to 30,000 psi. It can be configured to provide this uncertainty from its full scale down to 1 % of its range. Built-in pressure generation and control hardware allow the operator to fill and prime the system under test and generate and precisely adjust pressure throughout the range with ease.
The E-DWT-H has the operational versatility to calibrate and test a broad range of pressure measuring instruments including:
• Analog gauges
• Transducers
• Calibrators
• Sensors
• Transmitters
Accurate Instrument Repair calibrates pressure gauges and transducers with the Fluke E-DWT. This is a modern alternative to the traditional deadweight tester and provides our technicians with fast and accurate measurements.
Fluke E-DWT
From the cal lab bench top to 24/7 fully automated production testing, the PPC4™ digital pressure calibrator is the perfect standard for calibrating your pressure transducers.
PPC4 is  redefining premium performance in a digital pressure calibrator.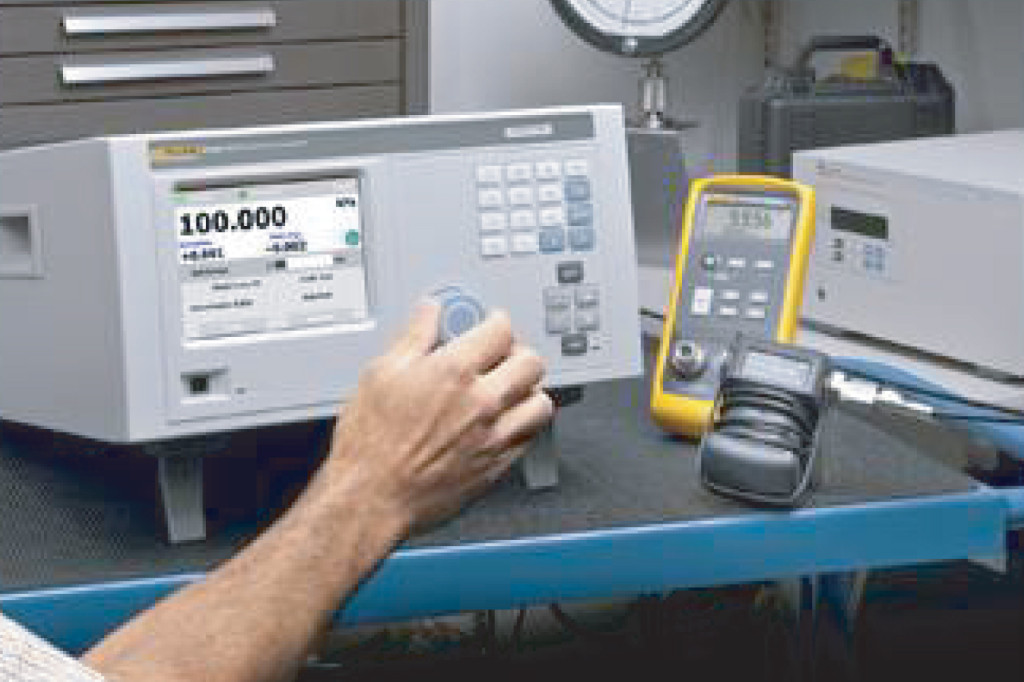 PPC4™ digital pressure calibrator
Accurate Instrument calibrates low pressure measuring devices with the Ruska 2465-primary gas piston dead weight tester. "The industry standard in low pressure measurement"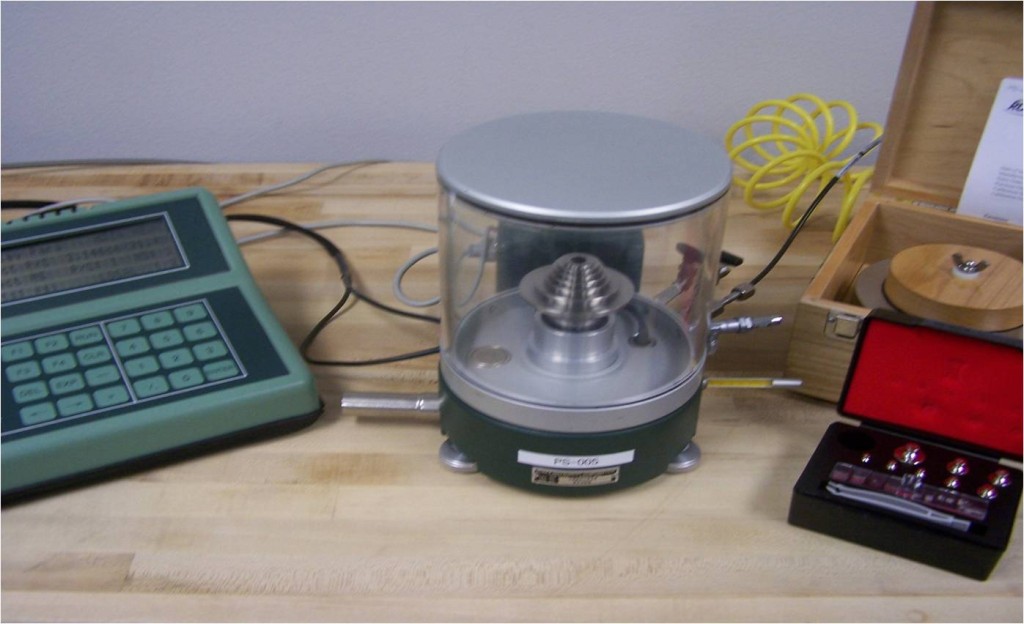 Ruska 2465
Accurate Instrument Repair technicians utilize the Eaton Instruments UPC portable pressure calibrators for on-site calibrations. Pressure measuring ranges of all four of our Eaton testers is vacuum to 10,000psi
Eaton UPC5200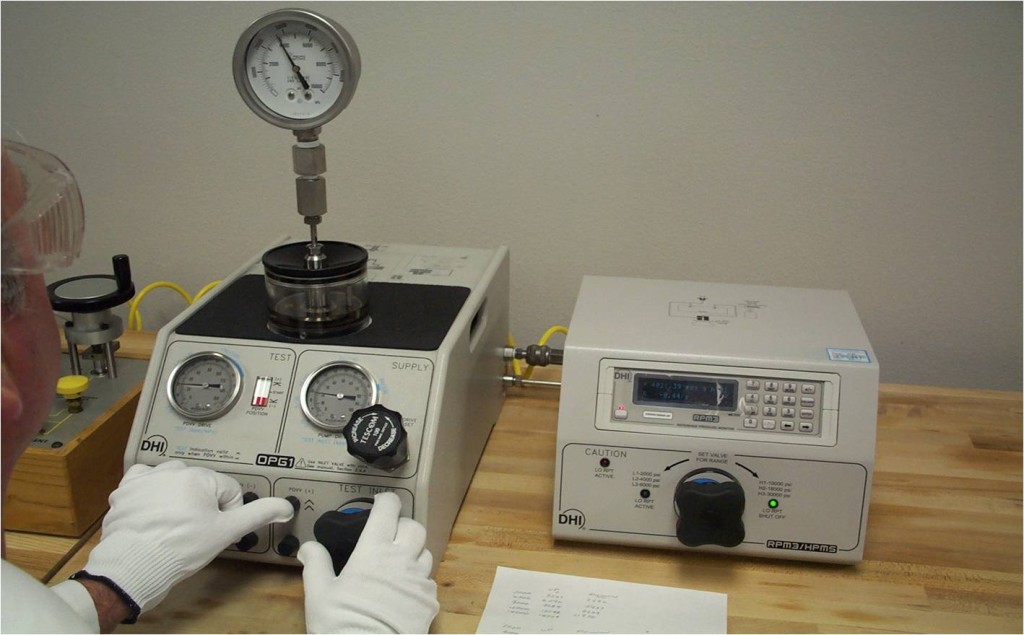 DHI RPM3 pressure monitor and OPG1 intensifier
Our well trained calibration technicians have the ability to calibrate pressure devices on-site or at our laboratory,  Years of working with Southern California's fuel refineries, aerospace and medical device manufacturers has made Accurate Instrument Repair the choice for all your pressure, measurement equipments calibration needs.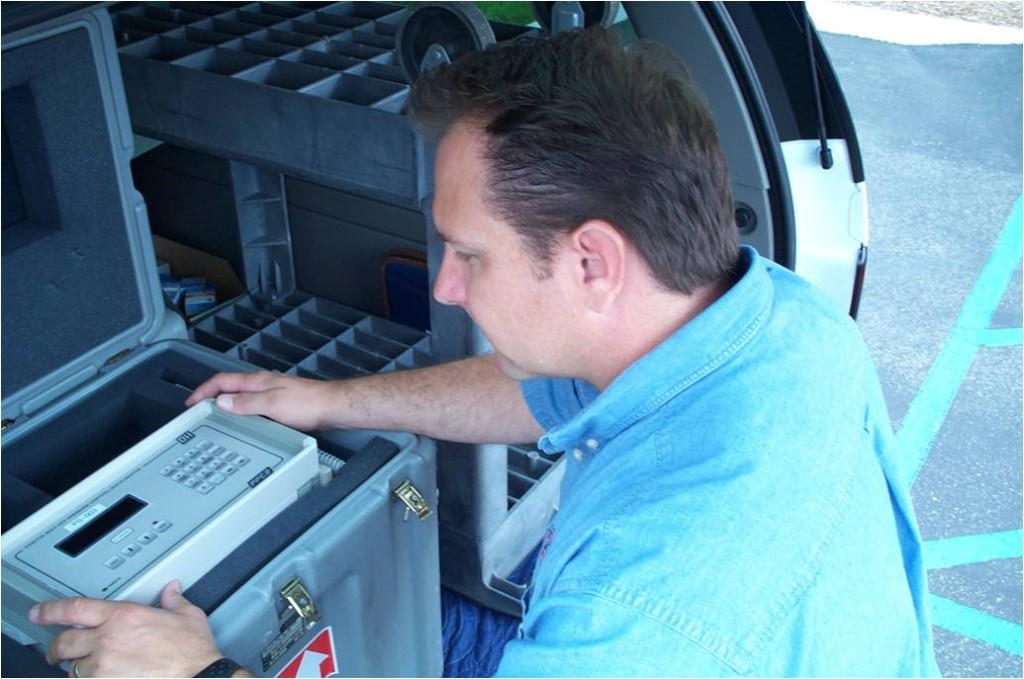 we offer our customers cleaning, repair and adjustment  of your mechanical analog pressure gauges. Depending on the environment and the amount of time your analog pressure gauge is in use contributes to the eventual degraded accuracy and many times leads to an out of tolerance condition.
Contaminates (oils, water, dirt) collect in the bourdon tube/bellows and inhibit the proper mechanical movement of the gauges delicate inner workings and require two different types of cleaning.
Accurate Instrument Repair calibration technicians can perform both; cleaning of the bourdon tube/bellows and cleaning of the mechanical movement by the means of ultrasonic cleaners.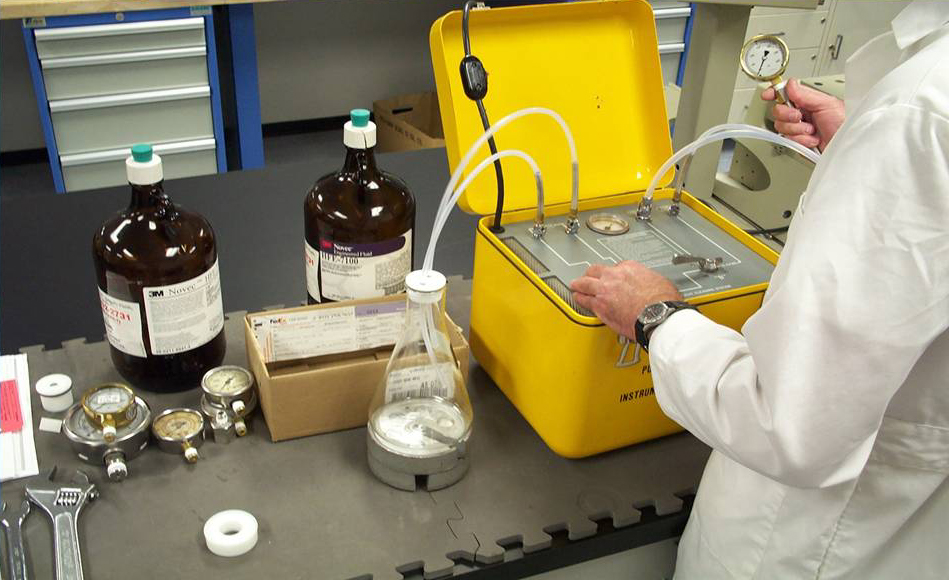 Oil is applied to all bearing surfaces gears are visually inspected for damage, dial face and lens' cleaned, re-assembled and calibrated.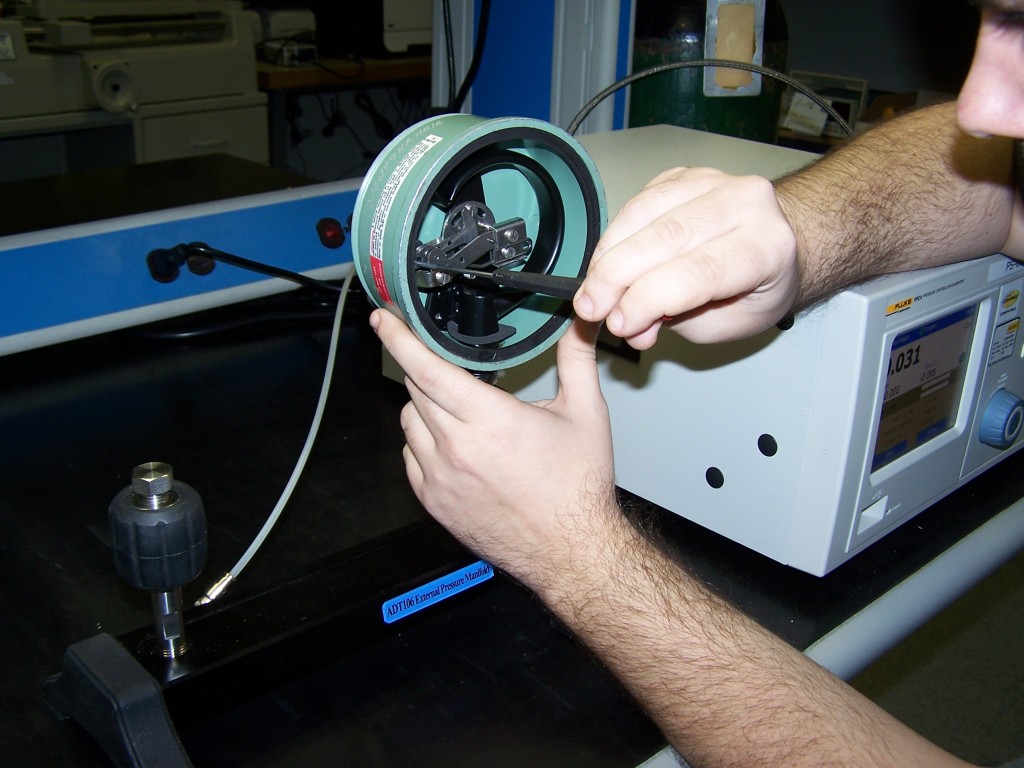 Continuous stretching and contracting of the bourdon tube/bellows causes the elasticity of the metal to changes and furthermore changes the accuracy of the gauge. When gauges reach the out of tolerance condition specified by the manufacturer, adjustment of the movement may be necessary to restore the gauge to its original accuracy.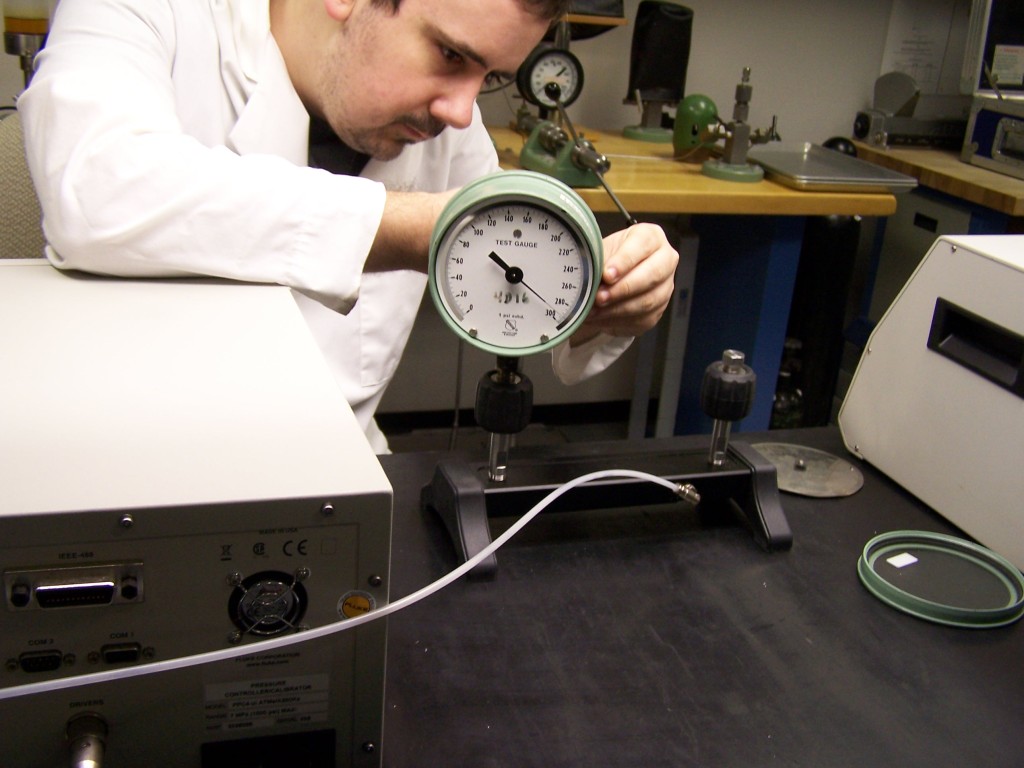 While applying a precise pressure via a calibrated standard of a much higher resolution and accuracy to the UUT (psi gauge) Accurate Instruments calibration technician can correct the out of tolerance condition.